What is BaQapp?
BaQapp is a internationally used low cost network backup application with advanced features to protect your home, business or organisation from data loss.
BaQapp connects through your local network protecting multiple PCs and servers (endpoints), for one fixed cost.
Your data, systems, software and settings will be safe from malware, ransomware, disk failure, accidental and malicious data loss while ensuring that you have current proper backups.
Download BaQapp-x64 or BaQapp-VM for your PC or Virtual Machines to protect unlimited endpoints for a 30 day no cost trial or the BaQappBoxx-LC and BaQappBoxx-i3 are available as a ready to run, low cost network backup devices.
All BaQapp systems offer the optional BaQapp monitoring service.
Why BaQapp?
Although there are many network backup systems, before BaQapp there were few simple, affordable systems for individuals and small to medium businesses. With BaQapp, not only do you have the basic backup features, but advanced features such as powerful data security and backup certainty.
BaQapp is the improved and supported backup solution based on open source German UrBackup. Since 2011, UrBackup has been translated into multiple languages and used in over 7,000 networks worldwide, including the U.S.Government's National Institute of Standards and Technology (NIST).
BaQapp Network Backup Solutions

Buy one of our Ready to Run network backup devices, available as the
BaQappBoxx-LC at $399.00 or the BaQappBoxx-i3 at $599.00, GST incl.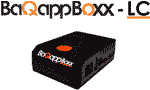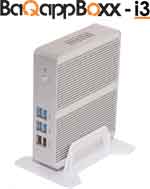 The BaQappBoxx-LC is a pre-configured low cost network backup appliance for personal and small networks.



The BaQappBoxx-i3 is for larger networks with Intel i3 processor.



Both are available with a selection of external USB hard drive(s) or use your own USB connected hard drive(s) and include 90 days free monitoring, thereafter optional monitoring at $11.00 per month.